Library
WiSo Building, Universitätsstr. 24, Cologne
Room: 627a / 6th floor
Phone: +49 (0) 221 470-4255
email: bankseminar-bib
wiso.uni-koeln.de
KUG (Kölner UniversitätsGesamtkatalog)
This is the complete card index of the book inventory of the University of Cologne.
It includes currently 25.000 volumes of books and 50 periodica,
registered electronically. For support please contact our student assistants.
Please use the KUG inquiry system for your request.
Jounals and Magazines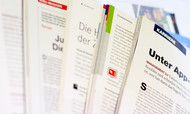 A request to ease the process of borrowing books
Please have the shelf mark of the required book available (see KUG). Thank you!